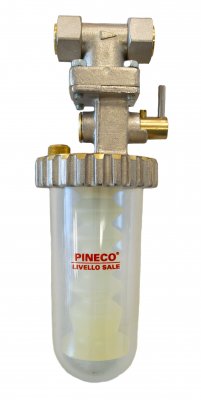 With its small dimensions and smart connectors, Spillo Polyphosphates Doser DM is designed to be installed under the boiler. Spillo is supplied with female/female twist connectors for an easy installation. Spillo is designed to release 3-5 ppm polyphosphates in the water.
Polyphosphates avoid the formation of calcium bicarbonate and carbon dioxide; this protecting pipes and heated parts from lime scale deposit and avoiding carbon dioxide corrosion. Thought its movement, Spillo system -Pineco's patent -guarantees water transit and constant feed of polyphosphates;
The closure valve interrupts the water flow for an easy polyphosphates refill.
- avoid the formation of calcium bicarbonate preventing incrustations
- create a film inside the pipe that protects pipes from corrosion
Technical Sheet

| | |
| --- | --- |
| Connectors Diameter | 1/2 " |
| Connectors | F-F with nuts |
| Height | 198 mm |
| Lenght | 167 mm |
| Depth | 67 mm |
| Dosing | 3-5 ppm |
| Max Pressure | 6 bar |
| Flow Rate | 2 mc/h |
| Δ Pressure | 0.2 bar |
| Water temperature | 5 - 40 °C |
| | |
| Body | Ottone T58 |
| Bowl | Grilamid |
| Soffietto | Silicone alimentare |
| Doser weight | 850 gr |
| Polyphosphate weight | 80 gr |
| Treated water | 20 mc |