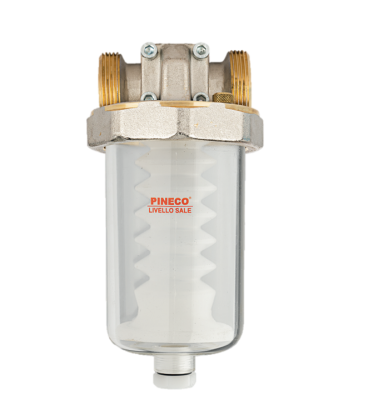 Pinedos Maxi is a hydrodynamic polyphosphates doser designed for polyphosphates treatment of water plant, heater, cumulative boiler, big heat exchanger in flats, houses etc.
Polyphosphates avoid the formation of calcium bicarbonate and carbon dioxide; thus protect pipes and heating devices from lime scale and corrosion.
The quick 3/4" and 1" connectors facilitate the installation. The high quality standard of Spillo exclusive system - Pineco' s patent - guarantees constant feed of polyphosphates. Great autonomy, up to 60 mc treated water.
Pinedos Maxi is r

ecommended for:
- 3/4" and 1" joint water line
- Centralized treatment for flats, houses etc
- In water line following water softener
Technical Sheet

| | |
| --- | --- |
| Connectors Diameter | 3/4 " and 1" |
| Connectors | F-F |
| Height | 210 mm |
| Lenght | 90 mm |
| Depth | 140 mm |
| Dosing | 4-5 ppm |
| Max Pressure | 12 bar |
| Flow Rate | 5.8 mc/h |
| Δ Pressure | 0.075 bar |
| Water temperature | 5 - 40 °C |
| | |
| Body | Brass T58 |
| Bowl | Grilamid |
| Soffietto | Silicon |
| Doser weight | 2.70 Kg |
| Polyphosphate weight | 200 gr |
| Treated water | 60 mc ca |