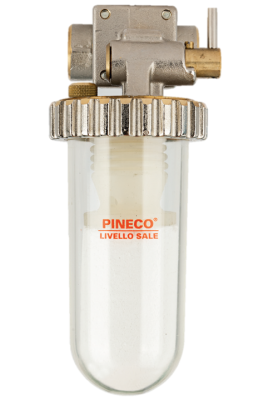 Spillo LN is designed for an easy installation in any situation. With adjustable flange and its special ring nut shape Spillo is suitable for any installation.
Spillo is designed to release 3-5 ppm of polyphosphates in the water.
Through its movement, Spillo system (Pineco's patent) guarantees the water transit and a constant feed of polyphosphates;
Polyphosphates avoid the formation of calcium bicarbonate and carbon dioxide; thus protect pipes and heating devices from lime scale and corrosion.
The closure valve interrupts the water flow easy polyphosphates addition.
- avoid the formation of calcium bicarbonate preventing incrustations
- create a film inside the pipe that protects pipes from corrosion
Technical Sheet

| | |
| --- | --- |
| Connectors Diameter | 1/2 " |
| Connectors | F-F o M-M |
| Height | 167 mm |
| Lenght | 66 mm |
| Depth | 95 mm |
| Dosing | 3-5 ppm |
| Max Pressure | 6 bar |
| Flow Rate | 2 mc/h |
| Δ Pressure | 0.2 bar |
| Water temperature | 5 - 40 °C |
| | |
| Body | Brass T58 |
| Bowl | Grilamid |
| Soffietto | Silicon |
| Doser weight | 850 gr |
| Polyphosphate weight | 80 gr |
| Treated water | 20 mc |