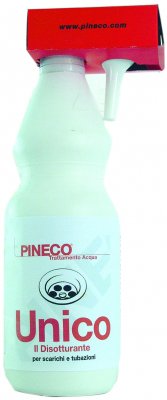 Pineco UNICO dissolves paper, rags, gauzes, hairs, soaps, products, fat substances that might obstruct pipes.
With its special formule Pineco Unico is a potent remedy that can be used also for PVC and lead pipes.
Use
Pour Unico into the obstructed pipe using the equipped funnel and gloves. Let Unico sit for few minutes then pour a small quantity of water. After few minutes, let the water flow copiously
Warning
Pineco Unico does not produce hazardous gas nor fume during its action; a slightly acid vapor might occur in particular conditions. Do not add water nor other substances in order to avoid improper reactions. Avoid contact with chromium-plated and zinc-coated parts.
Packaging
1,3 Kg bottle equipped with funnel and gloves
Chemical Physical Characteristics
pH solution at 10%: at 20°C: 1,2 ± 0,2