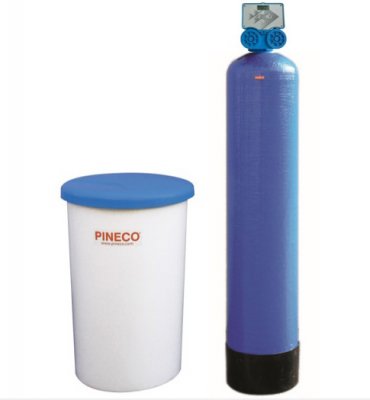 Double structure softener with base exchange, for technical, process and potable water, controlled by an electronic programmer with multifunctional microprocessor to manage and regenerate automatically according to statistic and/or forced volume, or according to time.
Complies with current regulations on water treatment intended for human consumption. Suitable for drinking water (if equipped with a chlorine producer) and for technological use.
Power supply V / Hz 230/50 network. Resins supplied in bags and filling at your expense.
TECHNICAL FEATURES:
Resins: 100 lt
Cycle capacity (m3 ° f): 600
Connectors (inches): 1½
Nominal flow (m3 / h): 5
Peak capacity (m3 / h): 6.5
Min-max pressure (bar): 2.5 - 8
Min-max temperature (° C): 0 - 40
Regeneration time (min): 80
Consumption salt for rigeneration (kg): 15
Brine tank capacity (lt): 340
Salt tank capacity (kg): 150
DIMENSION:
A: 187 cm
B: 166 cm
C: 37 cm
D: 65 cm
E: 120 cm