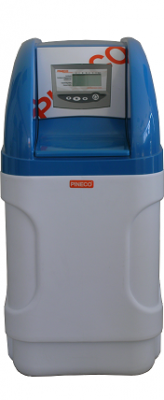 WATER SOFTENER 8 LITRE RESIN / VOLUME
INTEGRATED STRUCTURE
Automatic water softener with cationic exchange resin.
Integrated structure. Electronic digital meter control and time settable. Fully automatic control valve 7 cycles functioning.
Vessel made of reinforced fibreglass suitable for potable water, brine tank made of shock resistant plastic.
The softener can be equipped with Pineco CRL chlorine generator for potable water use.
TECHNICAL FEATURES
Connectors: ¾"
Cycle Capacity: 48 m3/°f
Resins: 8 lt
Standard flow rate: 900 lt/h
Max flow rate: 1200 lt/h
Rated pressure: 2-8 bar
Regeneration duration: 60 min
Salt comsuption for regeneration: 1.4 Kg
Brine tank capacity: 35 lt
Power supply: V/Hz 230/50
Resins type: Gel Strong Acid Cationic Exchange Resin, NSF/ANSI 44&61Certified
Valve body: made of PNL listed Noryl plastic material
Brine tank: made of PE material, UVA ray resistant
Vessel: made of reinforced fibreglass
DIMENSIONS
Integrated structure dimensions: 30x67x50 cm