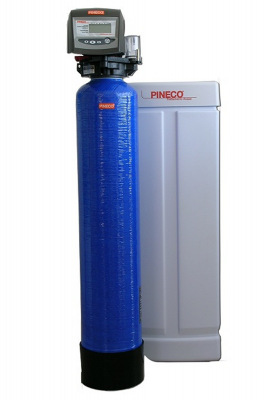 DNT is a range of softeners designed for the treatment of water with scale and nitrate.
The Denitrificator softeners consist of a bed of mixed resins, composed of strong cationic resin for the removal of hardness and a strong anionic resin for nitrates.
The resins are in the form of spherical grains, yellow for cationic and white for the anionic.
The composition of the mixed bed is studied according to the hardness and the nitrates present and it is therefore necessary to carry out an analysis of the water to be treated.
The regeneration of the Denitrificator softeners occurs as for traditional softening, that is through the use of a sodium chloride (NaCl) saturated solution, the common brine.
DNT softeners uses
and
CATIONIC EXCHANGE RESIN
Weight 0,77-0,87 Kg/l
Total exchange capacity 1,9 eq/l
Maximum temperature 120°C
Range pH 0÷14
ANIONIC EXCHANGE RESIN
Weight 0,68-0,73 Kg/l
Total exchange capacity 1 eq/l
Maximum temperature 100°C
Range pH 0÷14
Various models and sizes are available. For the correct sizing, consult our technical office.